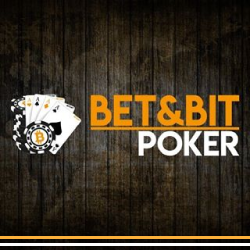 Terms & Conditions
Bet&Bit
Terms and Conditions
INTRODUCTION
This Terms of Service ("Terms") govern the relationship between you and Bet&Bit Poker (hereinafter "Bet&Bit" or "We" or "Us") concerning your use of Bet&Bit Poker Products and related services, including Bet&Bit branded websites ("Service").
INTELLECTUAL PROPERTY
All materials (texts, graphics, designs, images, logos, data) that are part of Bet&Bit Poker or our Service are intellectual property of Bet&Bit and are protected by copyright laws. Bet&Bit Poker, Bet&Bit Poker logos, and all game names are registered trademarks of Enterra and may not be used without the prior written permission of Bet&Bit.
You agree not to copy, redistribute, publish or otherwise use material from the Service, except as accurately authorized herein, without the express prior written authorization of Bet&Bit.
Nothing written herein shall be considered as providing any license or right to any copyright or trademark included in the Service.
UPDATES TO THE TERMS OF SERVICE
Bet&Bit poker reserves the right to change, add or remove parts of these Terms of Service at any time without prior notice. Any modifications to these Terms will be posted within the Service. Also you may be notified by e-mail about any changes in Terms. Your continued use of the Service after such changes will be considered as approval of them. No amendment to the Terms of Service shall apply to any dispute of which Bet&Bit had actual notice before the date of the amendment. It is your responsibility to check these Terms of Service on a regular basis.
If you do not agree to any part of the current version of this Terms of Service, Bet&Bit Privacy Policy, or any other Bet&Bit policy concerning your use of the Service then you must immediately stop using the Service.
ACCESS TO THE SERVICE
When you access or use the Service, including viewing any Bet&Bit website or accessing a poker game, you accept and agree to this Terms of Service. You agree to be bound by any application, or game specific rules published within the Service. Any use of the Service that violates this Terms of Service will be considered as an infringement of Bet&Bit's copyrights in and to the Service. Bet&Bit saves the right to close your access to the Service in case of violation of these Terms without notice.
To access the Service you may be required to register an account on the Service or use a valid account on the network. Minors bellow the age of 18 may not participate in our gaming offerings. Any accounts created by minors bellow the age of 18 may be disabled and banned by Bet&Bit without prior notice and warning. Any funds in the account will be seized by Bet&Bit and re-distributed to it's players.
You must provide all required hardware and software, including a mobile device that is appropriate to use the Service. You are liable for any fees that may be charged when accessing the Service.
USE OF THE SERVICE
You agree to comply with the following rules in order to use and access to the Service:
You are not allowed to register an account or access the Service if you have not reached the legal age required to use the Service as defined by the law of the jurisdiction in which you reside;
You are not allowed to register more than one account per platform or social network;
You shall create an account using true identity or personal information;
You are responsible for restriction the use of your account and any use of your credit card or other means of payment by minors;
You agree that your user content will not:
include any abusive comments related to race, national origin, gender, or physical handicap;
include any obscene, indecent or other unacceptable content;
libel, disparage, threaten or abuse any user;
encourage violence;
disturb the personal, intellectual property or other rights of any party;
You will not use the Service in case you have been previously removed or blocked by Bet&Bit;
You are allowed to use your account only for non-commercial purposes;
You will not upload or transmit any promotion materials, including spamming, chain letters that interferes with any party's use of the Service;
You will not spread or transmit viruses, Trojan horses, worms, spyware, adware or any other deleterious program or code;
You will not use your account to participate in any illegal activities, violating these Terms or any local, state, federal or international law, rules or restrictions posted by Bet&Bit;
You will not cheat or deceive Bet&Bit and other users in attempt to receive confidential account information (e.g. passwords);
You will not copy or adapt the Bet&Bit's software;
We reserve the right to ban your Account, if you violate against the Terms and Conditions;
PROTECTION OF PERSONAL INFORMATION
Bet&Bit respects your privacy and is committed to protect your personal information. We collect the information from you according to the relevant social network's policy. For more information on the collection and use of your information by Bet&Bit please refer to our Privacy Policy. You admit and agree that your personal information will be held and used in accordance with Bet&Bit's Privacy Policy.
DISCLAIMER
Our Service operates 'as-is' and 'as-available,' without liability of any kind. You agree that the use of the Service is at your sole risk. Bet&Bit makes no representation or warranty for events beyond our direct control. Neither Bet&Bit nor its affiliates or subsidiaries, or any of their directors, agents, third-party content providers warrant that the Service will be constant or error-free.