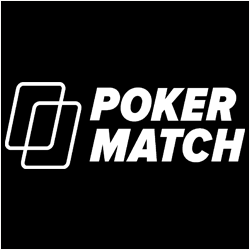 Terms & Conditions
PokerMatch
Rules for receiving the bonus for new players

1. This is a bonus for any account deposit, but it can only be received once. A bonus is available to players registered at PokerMatch from the moment this bonus is activated: from September 10, 2019. If a player registered at PokerMatch before September 10, 2019, but hasn't made a deposit yet and wants to get a first deposit bonus, he can contact PokerMatch support and the bonus will be activated manually after the deposit.
2. Bonus can be received within 60 days from the moment of registration at PokerMatch. After 60 days the bonus is no longer available, even if you enter the bonus code.
3. Bonus can be received only once. After the bonus is activated, other first deposit bonus codes will turn inactive.
4. Tickets for windfall tournaments will expire if they are not used within 14 days.
5. Bonus sizes are fixed and do not have a percentage link to the deposit. The key is the entered bonus code, not the deposit amount. If you make a 2,000 UAH deposit with Free250 bonus code, you will get a bonus according to the bonus code, not the deposit amount. If the deposit amount will be less than the bonus code requirement, the bonus will not be activated.
6. After registration and before making a deposit in order to get the bonus, the player must verify his email and log in to the game client. If this is not done, entering the bonus code during the deposit will not work.
7. The bonus code entry field is not case-sensitive.
8. To get any of the bonuses, the player must be on the first level of the VIP system (Level 1) at the moment of activation of the bonus code.
9. For accounts in EUR or USD, instant gifts are credited in UAH, as all PokerMatch tournaments are in UAH. Wagering bonuses are credited in the account currency.
10. Instant gifts are credited to your account immediately after the deposit and there are no wagering conditions. You can use them right away at your discretion. Any winnings from these gifts can be withdrawn right away without wagering. It is best to check the tickets and tournament UAH availability in the game client at the "Cashier" section.