Please note: Sometimes our newsletters contain limited offers that may not be available at this time!
This newsletter was sent out on 22 January 2009.
Hi [fname],
Forgot your login?
IN THIS ISSUE:
- DAILY FREEROLLS

- $150 FREE FOR CD POKER

- COOL HAND POKER BONUS & $500 FREEROLL

- EARN CASH ON MAKING YOUR FIRST DEPOSIT

- LATEST POKER NEWS FROM BANKROLLMOB


DAILY FREEROLLS

BankrollMob is proud to present a new daily freerolls program for all our members. Our goal is to offer you a freeroll EVERY DAY at different sites with a prize pool between $100 and $200 in addition to our existing monthly $500-$1500 freerolls as well.
Some of the freerolls have certain requirements such as a real money account or knowing the right password to register. The passwords are released on our website 2 hours before the freeroll begins.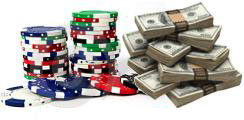 In the next month you will find freerolls at the following rooms:

Visit our

freerolls page

for an updated list of upcoming freerolls. Kindly note that we are still adding freerolls, so more will come soon. KickOffPoker starts tonight at 20:00 CET with a €150 freeroll,

click here to get the password

2 hours before it begins.


Reminder: $1000 Full Tilt Poker freeroll
We e-mailed you back in December regarding this freeroll as it required you to earn 200 Full Tilt Points (FTP) between December 17th and January 19th, if you wanted to play in this tournament. If you are eligible, don't forget to register for the tournamemt, it's scheduled for 12:00 EST (18:00 CET) on Sunday. The tournament ID# is: 72911767.




$150 FREE FOR CD POKER

We still have the superhot bonus for cdpoker available. However we are not sure how long this offer is going to hold, so if you want it, now is the time.

All you have to do is click the link below, register an account with CDPoker (pokerroomschool) and take a small quiz. $50 will then be deposited into your account, and you will be able to get an additional $100 released during play for a total of $150 without making a single deposit! No tricks not catches - real money straight to your account.

CLICK HERE TO REGISTER!

COOL HAND POKER BONUS & $500 FREEROLL

Cool Hand Poker is a new site at BankrollMob which offers you a 100% up to $350 deposit bonus. We will also be hosting a $500 "rebuy" freeroll scheduled for February 6th. Simply create an account and you can play in the freeroll. You can rebuy for $2 the 1st hour and all rebuys are added to the prize pool. Remember, it's FREE to play in the freeroll, but if you want an extra edge compared to your competitors, you can reload your chips for just $2.

More information: Deposit bonus / Freeroll.
EARN CASH ON MAKING YOUR FIRST DEPOSIT


If you want to check out PartyPoker you can now do this and actually make money on it. All you have to do is register an account as instructed below, deposit a minimum of $25 and earn 5 partypoints (is easily done), and you will get 5000 MOBPoints that can be converted into $50 cash payment to your Neteller, or cash deposits in your poker accounts.

You will in addition receive a $25 extra bonus from Party Poker if you deposit $50 or more, once you earn 100 PartyPoints. Amazing isnt it.

Click here and follow the instructions to get your free cash and free chance of winning!
LATEST POKER NEWS FROM BANKROLLMOB

Here's some of the headlines on what's going on in the poker world the past few days:

You are recieving this e-mail at [email] as part of your membership with one of our sites (BankrollMob)
.
To make sure that you receive all our e-mails, please add us to your list of trusted senders / address book.