Please note: Sometimes our newsletters contain limited offers that may not be available at this time!
This newsletter was sent out on 08 November 2011.

FRONT PAGE
SIGNUP
BANKROLLS
FORUM
NEWS
FREEROLLS
Welcome [fname],
Forgot your login?
For you to get the best experience from our newsletter, we
recommend that you allow your e-mail reader to display images!
In This Issue:
NEW:

HIGH PULSE POKER LEADERBOARD WITH ?6,000 IN PRIZES
BankrollMob is proud to announce a new and exclusive collaboration with one of the most interesting new poker rooms out there - High Pulse Poker!

High Pulse Poker is a new and innovative poker room on a independant platform. As of now, High Pulse Poker has not been offering real money poker games but players have been able to build their bankrolls simply by playing the freerolls. On the 15th of November, High Pulse Poker will launch their Real Money games. This means that your freeroll credits will be converted into REAL CASH. With a total of ?750,000 added for conversion, this November 15th at 14:00 will surely be a day to look forward to - lots of loose play and great action!

You will not be able to catch fish this easy in any other pond - so get your gear together, mark your calender and set the alarm - we're going fishin' boys!

How it works:

High Pulse Poker has a good selection of freerolls already up and running. The freerolls are for you to enjoy for free and the winnings are added to your account. You will be able to convert your freeroll winnings into real cash money on November the 15th. The funds will be at your disposal - play and rake or cash it out!

?250 Daily Special Every Day at 20:00 CET!

?25 Every Hour Around the Clock!

?10 Every Quarter Around the Clock!

In addition to the daily freerolls, High Pulse Poker is also offering 5 X ?2,000 freerolls.

So it's safe to say, that it's well worth it for you to click here and register your free account and start building your bankroll NOW and get ready for the Real Money Launch!

High Pulse Poker ?6,000 Exclusive Leaderboard for BankrollMob!

BankrollMob is also happy to announce an exclusive ?6,000 leaderboard for you! Starting on the 11th of November at 20:00 CET, BankrollMob is hosting a 10 day leaderboard competition where an exclusive daily freeroll with a ?500 prize pool and a cool ?1,000 added to the leaderboard for the top finishers - only for players from BankrollMob! That's 10 X ?500 + ?1,000 which equals a total of ?6,000 for you to battle for!

BankrollMob have ten ?500 freerolls at High Pulse Poker, one every day. You can play as many as you like as long as you are tracked to BankrollMob. The freerolls passwords are listed in the freerolls section on BankrollMob.

The prize (euros) you win in the freeroll(s) is converted directly to points for the leaderboard, ie. ?9.75 prize win will give you 9.75 points on the leaderboard. You also get to keep the euros in your High Pulse Poker account.

When the leaderboard ends, top 30 players will win their share of the ?500 prize pool, directly to their High Pulse Poker account. Top 200 win entry to a ?500 freeroll. Click here for prizes.

It's free to participate - no deposit required!

How to participate:

Create a High Pulse Poker account tracked to BankrollMob (otherwise you won't be able to join the leaderboard) - and get ready for when ?750,000 are converted into real money on November 15th!
Register your High Pulse Poker nick name on the High Pulse Poker leaderboard page. This is a must, otherwise you will not earn points for the leaderboard.
Play as many of our High Pulse Poker freerolls as you like, to earn points for the leaderboard, freeroll passwords are released 15 minutes prior to each daily freeroll. Good luck!

Don't forget - you need to both register a High Pulse Poker account and submit your nick name to participate in the leaderboard, plus it's completely free to participate, no deposit required!
POKERSTARS: 10TH ANNIVERSARY - $10M SUNDAY MILLION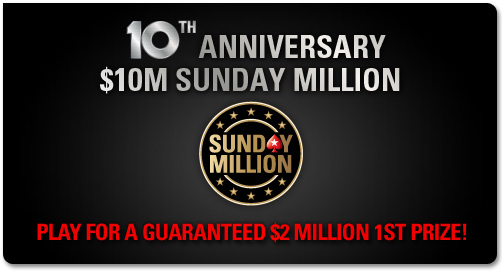 To celebrate PokerStars 10th anniversary, the Sunday Million tournament on the 18th of December will have an impressive $10,000,000 guaranteed prize pool! The winner will leave the table with a cool $2,000,000. The tournament is scheduled at 14:30 ET and the buy-in is $215.
PokerStars is offering hundreds of satellite routes to this event. For your best chance to qualify, play the $11 Sunday Million Mega Satellite with a huge 1,000 seats guaranteed. It takes place one hour before the Sunday Million at 13:45, and you can win a seat for just $1.
RUMMY ROYRAL $100 FREEROLL
It's time for another fun freeroll at RummyRoyal. As usual, the game is Kalooki 51 and this time the prize pool will be $100.
The freeroll is on Sunday November 20th at 22:00 GMT (23:00 CET) and the password will be released on our freerolls page 90 minutes before.
If you're new to RummyRoyral, click here to get a free $5 no deposit bonus and you'll be ready for our BankrollMob freeroll in no time!
NETELLER - FAST, SAFE AND SECURE. RECOMMENDED BY BANKROLLMOB!
LATEST POKER NEWS
Subscribe to our poker news RSS feed for latest updates, straight to your favorite RSS reader/application or connect with us on Facebook or Twitter if you prefer - we also publish our news articles there. Here's a quick overview of some of the latest poker news:
NETELLER - Fast, Safe and Secure

BankrollMob is very proud to offer NETELLER as a recommended payment/withdrawal method to its members...

Patrik Antonius's PokerStars nickname revealed?

According to new rumors, the Finnish Full Tilt Pro Patrik Antonius is playing at PokerStars under the nickname "Fake Love888". Since Black Friday...

Adrien Allain wins WPT Amneville for ?310k

A big congratulations to Adrien Allain who took home the World Poker Tour Amneville Main Event last night. For the win he received ?310,633 and his second trophy from a major poker...

2011 WSOP Main Event: Three players left; Ben Lamb in 2nd place The 2011 November 9 kicked off yesterday and still a world champion hasn't been crowned. When 6 of the 9 players had hit the rail...
Read the full article »
Contact Us
About Us
Affiliates
Advertising